Aviator Group International will strategically guide you through a successful aircraft acquisition by working on your behalf as a Buyer's Agent.
We understand your needs like no other.
First and foremost, the owners of Aviator Group International desire long-term clients. We sustain this accomplishment by utilizing only life-long, dedicated, and ethical aviation professionals. We rely on the enduring commitment to training and standards that has allowed our excellent team to achieve significant advancements. We hold numerous FAA certifications, including designated line check airman, heavy transport-rated Captains, and licensed Airframe and Powerplant mechanics to assist you with the operational and maintenance aspects of your aircraft purchase. Our team has vast experience in manufacturing with such companies as Boeing Commercial Aircraft Company, The Raisbeck Group, and in leasing and finance with a major jet leasing company. Our firm continually represents major aircraft companies and legal firms to establish true fair market aircraft values.
Benefit from our Market Intelligence. What is fair market value?
Several determining factors include:

•

status of aircraft time-life components and maintenance records

•

airworthiness directives and service bulletins

•

the exact number of a particular aircraft model currently available for sale or lease

•

damage history

•

and the number of days on market for a particular aircraft model.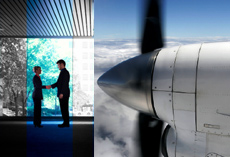 These are but a few of the areas studied an analyzed by our team. The dedicated professionals at Aviator Group International are also senior aircraft appraisers andhold USPAP endorsements as members of NAAA to provide you with the highest reliable report available on the aircraft current fair market value, and not just the asking price listed on the Internet.Few potential buyers understand the difference. Even fewer brokers are qualified to provide it.
As your Buyer's Agent, Aviator Group International will successfully guide you through the very complex process of a successful aircraft purchase including such facets as mission profile, aircraft valuation and appraisal, aircraft financing, and aircraft maintenance including complete logbook analysis. AGI has the licenses and certifications to analyze, discuss, and guide your aircraft acquisition with real world experience.
We are not sales people-turned aircraft brokers. Simply put, the aviation pros at Aviator Group International are life-long aviation industry operatives. Our mission as Buyer's Agents is in assisting clients to acquire the perfect aviation asset for their needs, at the best dollar value.
Trust Aviator Group International to represent your needs as your Buyer's Agent.